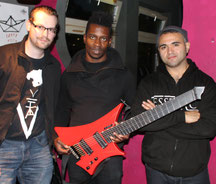 Während ihrer Europa Tour hatte ich das Glück die Band Animals as Leaders zu treffen und den beiden Gitarristen Javier Reyes (rechts) und Tosin Abasi (mitte) meinen X-REF 8-Saiter Prototypen vorzustellen. Da ich auch ein sehr großer Fan der Band bin war es mich umso mehr eine große Ehre!
Nach ausgiebigem Testen von Tosin und Javier, die das Instrument sehr positiv aufnahmen, bekam ich ein paar Punkte an die Hand, die ich nochmal überdenken sollte. Heraus kam die 7-Saitige Version, in der die Änderungen einflossen. Zum Einen war es eine noch größere Freiheit beim unteren Cutaway, um die hohen Bünde besser bespielen zu können, zum Anderen drehte ich die Klinkenbuchse etwas, weil diese in der Sitzposition beim Spielen des Instruments störte.
Für die konstruktiven Vorschläge und ihre Zeit, bin ich Tosin und Javier mehr als dankbar.
I had the chance to meet the band Animals as Leaders during their european tour and introduced my X-REF 8 string prototype the the quitarists Javier Reyes and Tosin Abasi.
I am a huge fan of the band and it was a great honor to meet them.
After intensive testing, Tosin und Javier gave me some tipps to make the guitar better. All in all they were excited about the model.
Back home I worked on the 7-string version with the improvements. It got a lot more space in the lower cutaway for better playing and I turned the jack angle, so you can now play it easily while sitting.
I am very thankful for Tosins and Javiers time and their feedback.