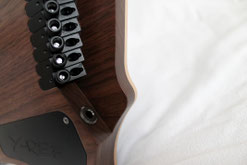 Um allen ästhetischen und klanglichen Anforderungen gerecht zu werden habe ich ein neuartiges Headless Tuning System entwickelt.
Es bietet die gestalterische Freiheit des Bodydesigns mit der Kompaktheit der Headlessinstrumente.
Hier die Vorteile:
System für Standard und Multiscale Mensuren, bis zu 10 Saiten
völlige Freiheit im Bodydesign, weil kein typisches Cutaway im unteren Bereich nötig ist
Die Hardware ist fest mit dem Korpus verbunden, die Saiten werden durch den Korpus gespannt, was die Resonanz verbessert
Flache Brücke mit Rollensattel erleichtert das justieren und intonieren
Das System ist kompakt und gut ausbalanciert, besonders für 8, 9 und 10 saitige Instrumente
In order to meet all aesthetic and sound requirements, I have developed a new headless tuning system.
It offers the design freedom of the bodydesigns with the compactness of the headless instruments.
Here are some advantages:
system for standard and multiscale frets, up to 10 strings
free in bodydesign without typicly lower body cut away
full contact of the hardware with the body, strings through design  --> bonus of sustain 
flat brigde design with rollersaddles on the body upperside --> easy to adjust in string height and intonation
compact and well balanced specially for 8, 9 and 10 strings instruments