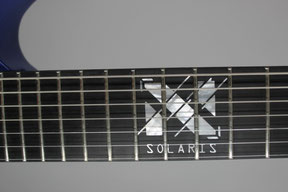 Wenn man eine Gitarre baut, weiß man vorher nie, wie ihr Weg verlaufen wird. So ist es besonders spannend, eine Gitarre nach Jahren einmal wieder in die Hände zu bekommen. So geschehen mit der NX7 Solaris.
2014/15 habe ich dieses Schmuckstück im Kundenauftrag gefertigt. Jetzt ist sie wieder bei mir - mit Auftrag zur Änderung.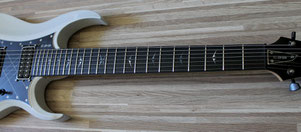 Die Band, in der der Gitarrist und ursprüngliche Eigentümer gespielt hat, hat sich mittlerweile leider aufgelöst. Die SOLARIS wurde verkauft. Der neue Besitzer möchte sie nun an seine eigenen Wünsche anpassen.
So hat er sie zum Beispiel auch neu lackieren lassen und sie erstrahlt jetzt in einem weiß-metallic Ton. Mein Auftrag war es nun, das Griffbrett mit den markanten Band-Inlays zu erneuern und mit anderen Inlays zu versehen. Mittlerweile ist das gute Stück fertig und auf dem Weg zum Kunden. Viel Spaß damit!
If you build a new guitar, you never know wherever the path takes it. Its exciting if you see the guitar again after years. This happend with the NX 7 Solaris.
I built this masterpiece as a customer order in 2014/15. Now it´s back - for changing.
The band, my former customer played in has broken up. The SOLARIS was sold. Now the new owner wants to adjust it to his´ wishes.
So he decided to give it a new look with a white-metallic finish. I´ve got the commission to replace the fretboard with its bold band-inlays and give it different inlays to the customers needs.
Right now the piece is ready an on its way to the customer. Have fun with it!