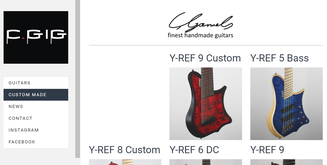 An der Website wird im Moment stark gearbeitet. Viele neue Inhalte warten auf euch. Ich habe mir etwas Hilfe geholt und nun erstrahlt die Seite in neuem Glanz. Schaut euch auf der CUSTUM MADE Seite alle meine bisher gebauten individuellen Modelle an, lasst euch von meinen individuell anpassbaren Standard-Modellen inspirieren und klickt durch die NEWS. Auf der Seite erwarten euch immer wieder neue Updates, ob zu neuen Projekten, Ankündigungen für Messen und co. oder interessante Hintergrundinfos. Wir kümmern uns derzeit um den Aufbau weiterer Punkte wie eine Galerie oder Videos, die demnächst auch über die Website erreichbar sind und auch in den sozialen Medien wird es einiges geben. Seid gespannt :-)
We are working hard on the website rightnow. Many new content will await you.
I hired someone to help me and so the website gets a shiny new look. Just look at the CUSTUM MADE page where you can find al my individual built custom guitars or be inspired by my personal adjustable Standard-Models. Also click through the NEWS page. Here we will post new updates, for example new projects, announcements or interesting backround stories.
We are working on more stuff to come like a galery or some videos. You can also take a look at social media. There will be new content too. Stay tuned :-)